Why Magnetic Technologies' brakes & clutches are better.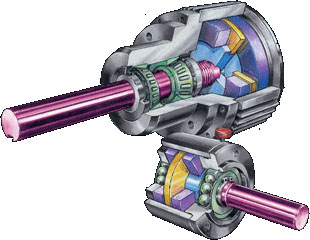 * Ball bearings or tapered roller bearings for overhung loads (HD).
* Numerous shaft diameters and lengths. If you don't see it, you can specify "A" and "B" dimensions.
* Special clamping arrangement allows easy disassembly and interchangeability should you decide to change a shaft or to service our brakes in the future.
* The hysteresis disc is the heart of our design. The heat treating and grinding of this element assures years of trouble-free performance.
* We magnetize all our own magnets and test 100% in-house to guarantee that brakes you bought from us years ago are the same as those purchased today.